Teaching on the Fly: Rain Doesn't Have to Ruin your Day. / Benjamin Douglass
This past Friday we were supposed to go on our first field excursion with Dr. Yuval Gadot to Tel Gezer and Tel Afek to learn about Canaanite city-states in the Bronze and Early Iron Ages.
At this point I'd like to bring to mind the old adage, "Man plans and God laughs", as we woke up at 5:30 am to major rain storms. We couldn't go on our planned outdoor tour, and everyone was disappointed since it was going to be our first hands-on experience with the material we have been studying. Instead, we had an impromptu, hands-on lesson in pottery typology for those same periods.

The archaeology department at Tel Aviv University is an excellent place to look at and study pottery from many time periods and many excavations throughout Israel. Yuval began the lesson by explaining the terminology for describing different parts of a ceramic vessel, such as the body, neck, or mouth. We looked at sherds of incomplete vessels, as well as complete vessels that are displayed around the room.
We even tried our hands at describing for ourselves the vessels we were examining. Using the new terminology Yuval had introduced to us, we tried to define the shapes of the vessels, different types of rims and bases, as well as what their function might have been.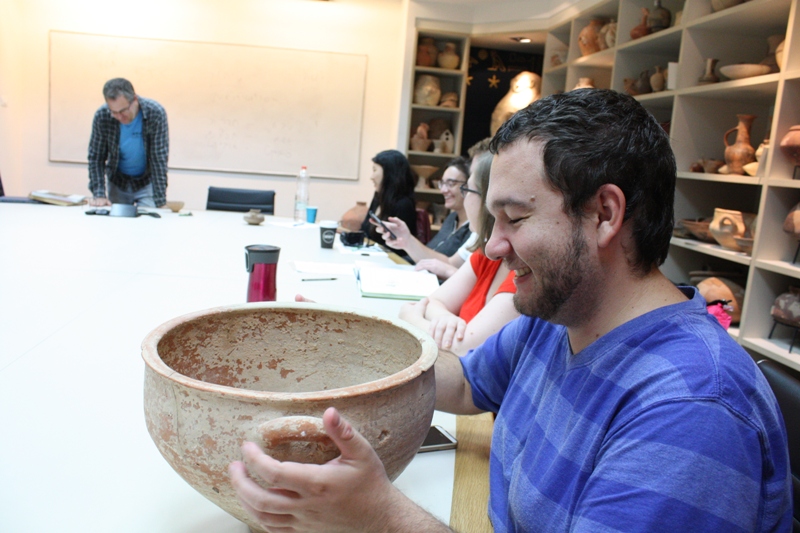 During our studies of the Bronze and Early Iron Ages over the last two weeks we have mentioned the different pottery assemblages that are common to different periods and locations, and we saw examples of these today. We examined in detail different examples of pottery from the Bronze Age, including the recognizable milk bowls and 'Bilbil' jugs and examples of Aegean prestige pottery imported from Mycenae and Cyprus, as well as their local imitations.
The differences in decorations were an interesting point of the discussion. Recognizing incised designs, burnish marks, red and white slips, and painted patterns is an important aspect to identifying where and when a vessel was created.
We also explored pottery that had different functions, from bowls and jugs to large storage vessels and serving containers. We compared the large cooking bowls of the Bronze Age Canaanites with the smaller cooking jugs of the Philistines in the Iron Age, and talked about jugs, flasks, and kraters and their different uses.
Even though we were not able to carry out the initial plan for the day by touring some of the Bronze Age sites that we had studied, we still had our first hands-on experience with the material we had been learning about. Being able to look at, to touch, and to feel the pottery was a very educational experience that helped us process and crystallize what we have read. The day was not lost, but rather a new experience was gained. As one student put it at the end, "I've gained 100% more knowledge than I came into the room with 3 hours ago."