​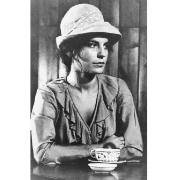 ​
Talma Yzraely 1943-2003 ( Photo by Yael Rozen)

The Fund was established to commemorate Talma Yzraely, a much loved and respected teacher in the English Department, who passed away in January 2003. Talma Yzraely was the founder of the composition program, responsible for instilling fresh life into it every year, and for personally looking into every detail. An inspired teacher, she passionately cared about every student and knew how to elicit the best work from everyone. For those of us who were lucky enough to know her, her name is associated with the highest standards of excellence. The prize in her name would be a great honor for any student.
The Talma Yzraely Prize is awarded each January to the undergraduate student with the highest grade point average who has completed at least two semesters of the BA program. The prize is designated to help pay tuition fees.

​Recipients of the Talma Yzraely Prize:
​
2023: Ann Prashkovsky, Ori Couriel
2022: Rotem Biran, Maya Sinay
2021: Tom Koren.
Runner-Ups: Merav Grossman, Maya Hollander
​
2020: Talia Wercberger
2019: Mika Moreh
2018: Leehu Sigler
2017: Joshua Samet
2016: Adi Lanoir
2015: Zeidy Canales and Eden Yoel
2014: Leonora Rosenfeld
2013: Roman Filkovsky
2012: Lior Levy
2011: Ronny Manor
2010: David Montifiori
2009: Olga Barenboim
2008: Margarita Volosin
2007: Orit Ben David
2006: Natanela Elias
2005: Ye'ala Karni
2004: Asia Gelfand
Recent annual lectures:
2022
Lecture by Dr. Maurice Ebileeni "What I Talk about when I Talk about Palestine"

2021
Short talks on the theme of writing by Dr. Spencer Morrison, Dr. Dara Barnat and Ms. Tom Koren.
Dr. Reut Barzilai University of Haifa
״ True Performing ״ Theatricality and Anti-Theatricality in Early Modern England
Prof. Karen Alkalay-Gut, An award-winning poet and scholar,Tel Aviv Univercity
"Rhyming a Way Out of Dying: William Ernest Henley's Hospital Chronicles"

2018
Dr Björn Quiring
"Before the Law? The Tribunal of Nature in Milton's 'Paradise Lost'

2017
Prof. Maeera Shreiber, University of Utah
"Tremendous Poetic Potential 21st Century Jewish Poets Take on Kabbalah"

2016
Dr Joseph Sterrett, Aarhus University
"The King's Ring: Trust and Sovereignty in Shakespeare's Henry VIII"

2015
Professor Tzachi Zamir, Hebrew University of Jerusalem
"Why Philosophers Read Shakespeare"

2014
Professor Elliott Simon, Haifa University
"Thomas More's Humor in his Religious Polemic"

2013
Professor Peter McCullough, Lincoln College, University of Oxford
"Doctor Donne and Doctor Faustus"

2012
Professor Sandrine Sorlin, University of Montpellier
"The Power of Rhetorical Imposture"

2011
Professor David Zarefsky, Norhtwestern University
"What Can We Learn from the Rhetoric of Abraham Lincoln?"

2010
Professor Anne Pasternak-Slater, University of Oxford
"The Iconic in English Renaissance Literature, Especially Shakespeare,"

​2009
Professor Irene Tucker, University of California, Irvine
"Racial Sight: Kant, Skin, and the History of Medicine"