Head of Laboratory: Yafit Wiener
As archaeology in motion, the Restoration Laboratory is where broken vessels find new life. A core component of the institute, the 160-square-meter lab provides the space and specialists necessary for the restoration of ceramic material excavated by archaeological expeditions of the Institute and Department.
Identifying patterns and connections, the specialists of the restoration lab process material in a systematic order. First, all 'restoration material' of a project is brought to the tables, alongside a list of loci and a 'map' (top-plan) of the area from which material was removed. List in hand, specialists first identify like-pieces, locate and mark connections, and then begin to glue and reconstruct the vessel. Once a vessel has been glued, gypsum is applied to the 'gaps' between pieces to provide the stability necessary for handling of the restored vessel. While sherd material can provide a great deal of information, reconstructed vessels provide an unparalleled opportunity to better view the material as it once appeared and functioned.
Obviously, not all the potsherds unearthed find their way to the restoration table. Expedition staff selects material from contexts where it seems clear that complete vessels can be put together. These become the pots displayed in museum vitrines. But restoration is not only about museum-quality pottery; it is also about tracing depositional processes--how and where the sherds moved after vessels broke. This provides important information about a settlement's history
Want to Learn the Works of the Studio and be a Restorer? Join Our Training Program (Hebrew)>>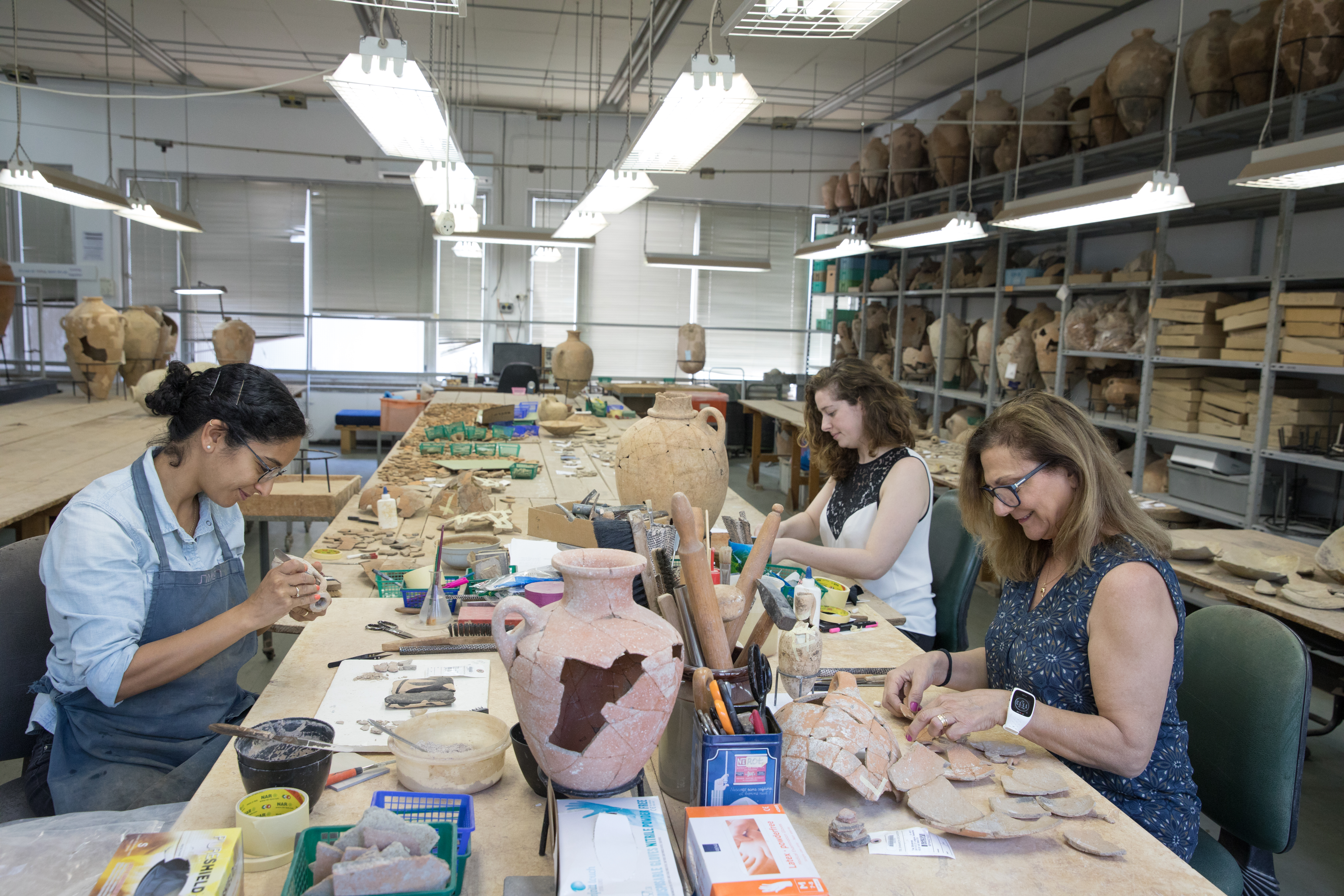 The restoration team at work: from right Yafit Wiener, Debora Stein, and Shimrit Salem (Photo by Sasha Flit)